Steering Committee Meetings in Haifa and Jerusalem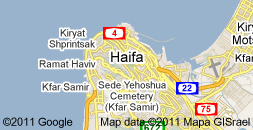 The Steering Committee traditionally holds its mid-conference business meetings at the venue of the next conference – allowing us to review the conference venue and discuss conference organisation with the local organising committee. Therefore this year, at the end of February, the Steering Committee will hold its meeting in Haifa, Israel.
Being so near to Ex Libris headquarters, the Steering Committee is using the opportunity to discuss various issues with Ex Libris management in Jerusalem. The main topics on the agenda will be: organisational issues of the IGeLU Conference and the following Systems Seminar; URM (Alma) development status and pricing models; CKB and Primo Central enhancements; support and documentation issues.
Jirka Kende, IGeLU Chair