IGeLU member details self service
To see information on all IGeLU members and change detailed information of your own institution, go to the membership list and use the login option in the right upper corner.


Forgot password?
In case don't have your password, please use the Forgot Password Option


You will be asked to enter your IGeLU membership Institutional Code .
A notification email will be send to your official member contact email address listed in our database.
In case you don't know your IGeLU membership Institutional Code or can't contact the official member contact in your institution anymore, contact the IGeLU secretariat via secretariat@igelu.org.
Successfully set your password
Go back to the membership list, insert your username (Institutional code) and new password and access your Institutional page.
Here's an example of the members detail information you can see and edit yourself!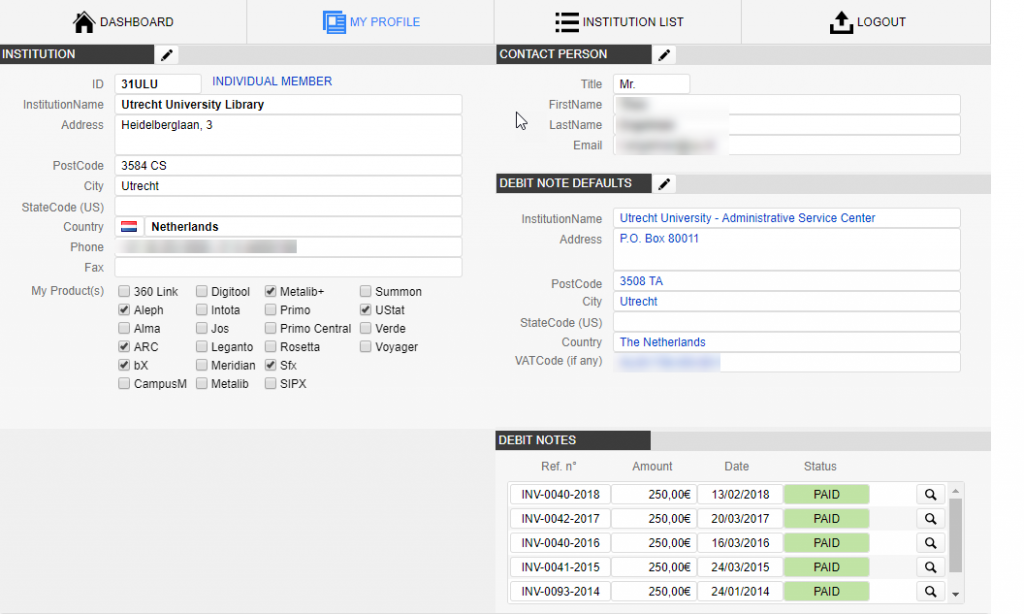 In case of any internal organizational or employee changes, you can change this yourself in 'My Profile inform' our secretariat by sending an email to secretariat@igelu.org.
Paying your yearly membership fee
Logged in users can choose to pay their yearly organizational membership fee by:
Credit Card. If you choose this option, you will be redirected to a safe credit card payment broker.
Download a PDF invoice to pay by bank transfer. You can add the purchase order number to the membership fee invoice and then download the invoice to have it processed by you own institutional financial department.
In case you need any additional information or changes on the PDF invoice, please do not hesitate to contact us by sending an email to secretariat@igelu.org.
Dashboard
The

shows graphics on statistic data of the total membership.
Institution list

shows the details on all members. You can sort the list by clicking
in the column headers of Country or Institution