IGeLU 2019 Conference:
I would like to thank everyone for making the IGeLU 2019 Conference a success. This was the first conference that we have held outside of Europe and Israel. Based on this success we plan on holding another IGeLU conference in Asia soon.
IGeLU 2019 Conference Feedback:
We are currently reviewing the feedback provided by the attendees. There are 6 main categories of feedback
WiFi – We acknowledge that the WiFi was substandard and plan to have better WiFi for IGeLU 2020
Developers Day Fee – At this stage, the plan is to hold Developers Day in 2020 at no cost to attendees
Extending conference to 3 ½ days – This will be considered by the Steering Committee as part of our IGeLU 2020 planning
More tables for lunch
No 5pm to 6pm sessions
More coffee
IGeLU 2019 Steering Committee Elections:
This year there were 4 vacant passion on the IGeLU Steering Committee. I would like to congratulate the following successful candidates: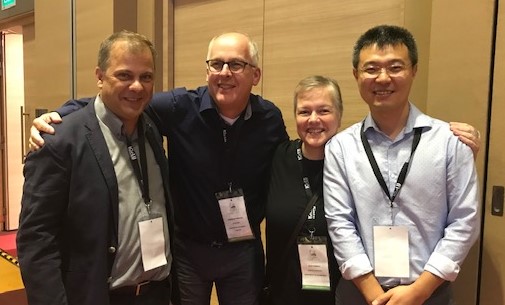 Alex Forest, University of Edinburgh, UK – new member
Christian Haenger, Mannheim University, Germany – existing member
Augusto Ribeiro, University of Porto, Portugal – new member
Wei Xuan, University of Manitoba, Canada – new member
I would also like to thank the following Steering Committee members who have left the Steering Committee. Their work and dedication to IGeLU have been greatly appreciated.
Shameem Nilofar Maideen, Singapore Management University, Singapore
Ken Herold, Adelphi University, USA
New Initiatives:
The IGeLU Steering Committee has identified the need for additional focus groups. These new focus groups will be looking at
GDPR compliance
National / State / Collecting institutional requirements
We will be looking at feedback from you all once the focus groups have a clearly defined scope of activities.
IGeLU 2020:
I am pleased to announce that the IGeLU 2020 conference will be held in Cardiff, Wales between the 14th to 17th September. Our hosts will be the WHELF Consortia (http://whelf.ac.uk/). We have started our program planning activities for IGeLU 2020 so stay tuned for more information as things progress.
Your feedback:
If you have any issues, comments or suggestions that you want to raise about IGeLU and its operations please contact me on dave.allen@slq.qld.gov.au or chair@igelu.org